Who Are We?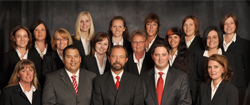 If you need a Cincinnati bankruptcy attorney, or a Dayton Bankruptcy attorney, you owe it to yourself to spend some time on this website. Check out our videos. Here you will find information about filing bankruptcy; chapter 7, chapter 13, debt consolidation, credit card debt solutions, and more.
Read More
Testimonials
I wanted to thank you & your staff with my recent bankruptcy case. You helped make a difficult decision less stressful. It was not an easy step to take. Your advice, organization, and helpfulness made this step less painful. Thank you
— Debt Free Client
100% Guarantee
We are so confident in our ability to provide you with the kind of results you want that we actually guarantee your satisfaction, and more.
Read More