Who Are We?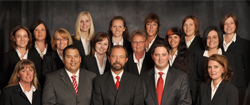 If you need a Cincinnati bankruptcy attorney, or a Dayton Bankruptcy attorney, you owe it to yourself to spend some time on this website. Check out our videos. Here you will find information about filing bankruptcy; chapter 7, chapter 13, debt consolidation, credit card debt solutions, and more.
Read More
Testimonials
I wanted to thank you and your office staff for your assistance in filing bankruptcy. You and your office staff made me feel very comfortable and relieved all my worries and embarrassment in filling bankruptcy. I also wanted to let you know that Mr. Malkiewicz was very knowledgeable and easy to work with. My case was discharged in and since the discharge date, my credit score has improved by 100 points. Thank you again for all of your help. Please pass along my thanks to your staff and to Mr. Malkiewicz. It has been a pleasure dealing with your office and if there is anything I can do to help your firm out in the future, please do not hesitate to contact me.
— Debt Free Client
100% Guarantee
We are so confident in our ability to provide you with the kind of results you want that we actually guarantee your satisfaction, and more.
Read More